Exercise Pro Live
Exercise Pro Live
Exercise Pro Live - An Online Exercise software designed for physical therapist, athletic trainers and chiropractors for exercise programs and education for patients.
Easy to use and comprehensive. Exercise Pro Live offer more features than any other online system
Benefits:
Superior patient compliance using points rewards, pain/difficulty feedback and adherence tracking.
Better patient outcomes by providing clear instructions, set, reps, and resistances.
Improved patient exercise technique by providing video, illustrations and photos.
Saves you time - no more drawing silly stick figures, copying out of books or searching for handouts.
Enhanced patient care by having access to thousands of different evidence based exercises.
Net Promoter Score for patient satisfaction surveys.
24/7 access for clinicians and patients.
No software to install, no cost for upgrades, new features or content. No set up fees
Eliminates IT  labor and resource costs.
Works with mobile devices and smart phones.
HIPAA compliant, data is encrypted, secure and backed up.
Programs sent Direct to Patient:
Exercise Pro have been providing home exercise software since 1997. Exercise Pro Live (EPL) is a HIPAA compliant online system, making it easier than ever to send home programs direct to your patients that they can view on their computers, tablets or smart phones. And best yet, they can access 24/7, anytime and anywhere.
With the mobile app, our customers report, it's so easy that even patients in their 80s have no problem accessing their programs. And for those that can't, you can provide printed handouts.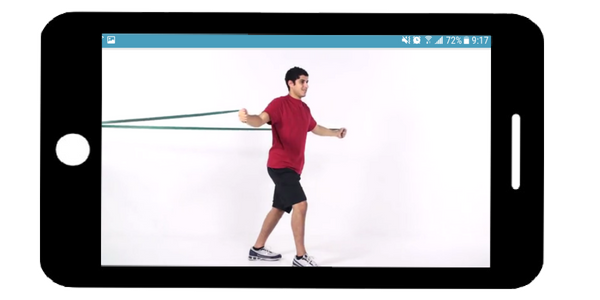 3700+ Exercises:
With over 3500 exercises to choose from, your home programs are sure to remain interesting and varied for your patients. All exercise videos are in HD format, using real people and not computer generated, non realistic animations.
Content includes orthopedics, functional, neurology, balance, geriatrics, speech, women's health, yoga, Pilates, fitness, aquatics and more.
Rewards Program, Compliance, Net Promoter Scoring and Feedback Reporting
Providing quality video home exercise programs is great, but every clinician knows that compliance and adherence can be an issue.
Exercise Pro Live has a special Rewards Program, essentially Gamifying our phone app. Patients receive points for consistently adhering to their home program. They receive points for providing pain and difficulty feedback. Exercise Pro studies show home program compliance improves when patients receive rewards. Clinics can even award prizes at significant achievement levels!
Exercise Pro Live compiles this information directly on the main dashboard so therapists can quickly see patient status, allowing them to adjust treatment accordingly.
EPL tracks Compliance; how often, time of day and time periods when patients access their home programs and provides you with complete reports. The end result is better patient engagement, accountability and improved participation in their rehabilitation.
The Net Promoter Score feature surveys your patients satisfaction level with your treatment and facility. This can help decrease patient dropout percentages and provide insight on your perceived quality of care.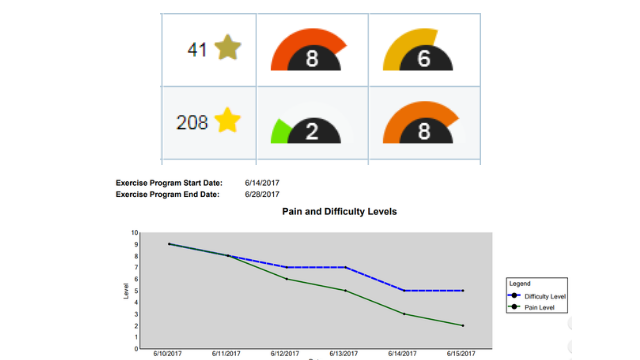 Versatile Delivery
Versatility is key. Not every therapist is the same. Not every patient needs the same things. That is why Exercise Pro let's you provide video programs or print them. And if you decide to print them, you have the option of choosing photos or using B/W line art which can save toner and ink.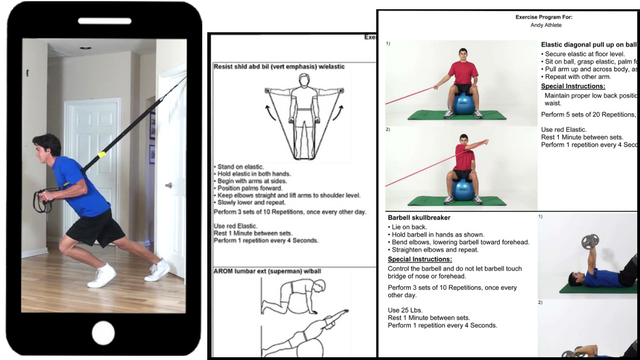 Education Topics
Exercise Pro Live doesn't just do exercise. How often do your patients need information on their condition? They want to know why they are having trouble. They want to know how therapy will help. You may want to teach them how to do an ice massage, or use a walker properly.
Exercise Pro Live gives you access to a wide range of patient education topics. These include things like using crutches, canes, walkers, how to make a homemade ice pack, information on proper body mechanics, posture and more.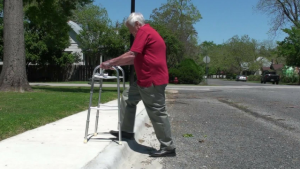 Using walkers
Patient Health Portal
Each patient has access to their password protected exercise portal, branded with your company logo and information. Here they can:
Access video exercises, complete with sets and reps.
Read instructions.
Access frequency (daily, MWF, twice a day etc.)
Print program with photos or line art.
Report pain, difficulty and completion level of HEP.
Send and receive messages to and from therapist.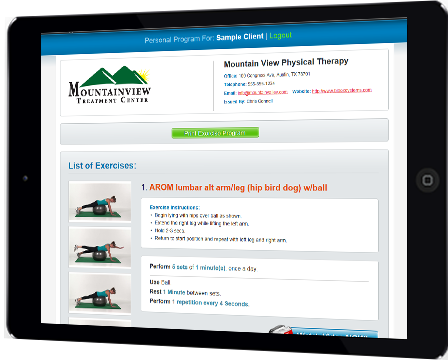 Customize to Your Needs
Home exercise software systems should be adaptable and grow with your needs. Which is why Exercise Pro Live made sure you have these custom features:
Add your own video exercises.
Add your own education topics.
Provide custom messages in the email patients receive.
Create custom  exercise protocols.
Add your logo to patient portal and handouts.
Set expiration dates on your exercise prescription.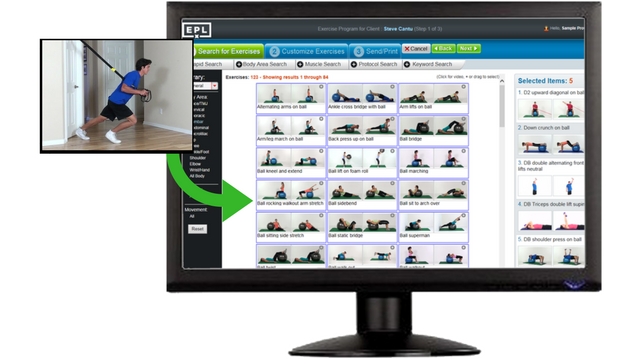 Other Unique Features
Exercise Pro Live has many unique features that rarely get top billing but contribute to making their software so powerful and user friendly.
The top "underdog" is global defaults. Exercise Pro Live let's you select sets, reps and frequency based on exercise type. This practically eliminates tedious typing. You just change any exceptions to the rule!
Mark exercises as favorites and they always show up first on the list. Hide exercises that you don't typically use.
Search for only exercises you have added.
Track resistance like colors of elastic or weight, which all appears in the automatic chart copy in a PDF format, ready to attach to a patient record.
Set expiration dates on home programs.
Attention to detail is what makes Exercise Pro Live chosen by more therapists.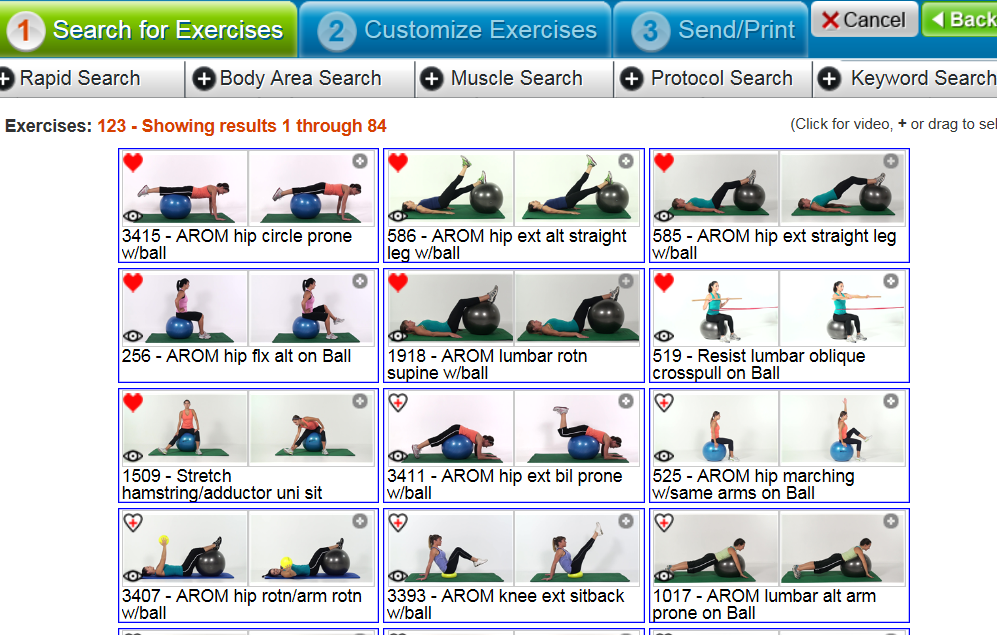 Free Exercise Now phone app keeps patients involved and participating in their rehabilitation. Available on Android or iPhone